Having a solid evergreen content strategy is crucial if you are serious about inbound marketing in today's online world.
Simply writing a new blog post in order to get ranked on Google f0r a certain keyword might have worked back in 2010. However, now you need to first create an entire content strategy including keyword research, a competitor analysis and determining the type of posts you want to publish. Once you've done those things you can dive into the actual content creation process.
It is important to not only blog the same type of posts all the time.  Mixing up your blog posts with list-style blog posts, guides, company/product updates and interviews will help to diversify your blog and capture the attention of a wider audience.
A key part of this strategy is to invest time and resources into so-called evergreen content as it promises the best return-on-investment (ROI) on your inbound marketing efforts.
Let's have a deeper look into what it is all about.
What is evergreen content?
Evergreen content is timeless content that is valuable and relevant to your audience for a very long time. It is often even valid forever. Good examples of evergreen content would be the following headlines:
How can I create engaging evergreen content?
What is content marketing?
Beginners Guide to Social Media Marketing
All of these headlines are relatively broad and the description of those things (evergreen content, content marketing, social media marketing) does not change a lot (or at all) over time.
On the other hand, the three headlines below are not at all suitable for evergreen content:
How does Brexit affect small businesses in the UK?
Things to adjust on your website after Google's Penguin update
3 Ways to Crush Facebook Marketing in 2017
All those headlines are timely. The last one even includes the year of the blog post in the title. Who would like to click on that title in 2018, 2019 or 2025?
Will anyone still care about Google's Penguin update (happened in 2016) in 2020 after there have been another 5 major updates?
Is anyone even going to remember Brexit in 2030?
Evergreen content discusses topics that are timeless and continue to interest people in the future. A definition, an interview with a thought leader, a list of productivity hacks. They are as relevant in 2025 or 2030 as they are today.
Why evergreen content at all?
If you've ever written a well-researched and lengthy blog post, done the editing and formatting and then promoted it via guest blog posts, social media marketing and email outreach you probably know how time consuming it can be.
Content writers and creators spend a lot of time producing new, innovative and engaging content. It's an expensive process.
Ever heard about economies of scale?
For example, if something costs you $100 to make and you sell it to one person, then the costs attributed to that one sale are $100. Sell it to two people and the costs go down to $50 per person. Ten people and it's only $10 per person. And so on.
It's the same with content.
You can either spend 20 hours, or let's say $200, on a blog post about a current event (e.g. Brexit or Google's Penguin update) or you can spend the same time and resources on an evergreen content piece such as an in-depth guide on content marketing.
Now, the current event blog post might attract more readers initially as people on social media and Google search for the topic right now, but traffic dies down very fast.
Whereas the evergreen blog post is slowly growing. It gives you a continuous, yet smaller, amount of readers every day for years to come.
Below you see the Google Analytics stats of a blog post covering the implications of Brexit for UK freelancers. It's very much current affairs back in 2016 and less so in 2017 and in the future.

And in comparison a blog post covering the major business banks in South Africa. The blog post might need a small update once per year but stays the same in essence as banks normally operate quite slow and don't change a lot over the years.

Which blog post and traffic would you prefer?
How to find keywords and specific ideas for evergreen content
It's simple. Think about what is not current affairs. What will still be important in one, two or five years? What was already important three or five years ago?
You can do general research in what's interesting by checking out places such as:
Google Trends can be a powerful tool to identify evergreen content ideas when used correctly.
As an example I've searched for two terms:
Pokemon Go
Social media marketing

Pokemon Go had a spike in search traffic and media attention in the summer of 2016 that even let to the Nintendo stock doubling in a matter of weeks. But are you still catching Pokemons? Is any of your friends still talking about them? According to Google trends the answer is no.

On the other side, when I did a quick Google trends lookup for the term "social media marketing" you can see that in the past five years it had a steady and healthy upwards trend. It's not exploding like Pokemon Go, but it never crashed like it either.
Which of those topics looks more interesting for an evergreen content piece to you?
List of evergreen content ideas
So now you might have a better idea what kind of keywords you want to target and what topics are suitable for evergreen content. But in what format do you want to publish your evergreen content?
Checklists
Checklists are never getting old. Examples include checklists on what to take into consideration when buying a new flat (real estate niche) or ten things to do when visiting London (traveling niche)
Case studies
A case study is an in-depth analysis of something. It could be showcasing the results of a particular strategy such as an SEO strategy for finding guest blog post opportunities. A possible blog post title could be "How we increased our blog traffic by 150% in 7 days by implementing these small changes".
Annual/monthly updated reports
It might sound counter-intuitive but having an annually updated industry report can be a great piece of evergreen content. Often people are not only interested in the latest report but also in the performance/analysis of the previous years. You therefore should always link to previous and following blog posts of the same report series right at the top of each report.
List-style blog posts
Anything that you can put into a list format will do just fine. Headlines such as "99 Tools to Use For Your Small Business" or "19 Hacks to Improve Your Productivity" are prime examples of list-style evergreen blog posts. They are timeless and attractive to click on now and in three years, too.
History posts
Writing down the history of a company, product or event can be a great way to attract new readers for a long time. The history of the iPhone could be a blog post that gets updated twice a year whenever a new iPhone gets released. With time and patience the post would attract an ever-increasing number of readers.
Stats / primary research
Conducting primary research in the form of surveys and questionnaires can be a tedious and time-consuming task, but it can also be very rewarding. It takes time to collect and analyse the data but once the post is live it might get referenced (and linked to) by other authors for years to come.
Curated content
A reference blog post or page of all the most important resources one can find in your industry. It might include links to industry-specific websites and forums, niche social media platforms and industry reports and event listings.
"How to" guides
"How to" blog posts guide the reader through a difficult subject that they are trying to master. "How to register a company in the UK" or "How to register for VAT" are real questions people have every day and hence  type into Google. If you can give them a step-by-step guide to solve the issue on hand, you can establish yourself as an expert in that particular field. Most of the answers to these "How to" questions rarely change a lot over time.
Beginners guides / "Getting started" guides
"Beginners guide to blogging" or "Beginners guide to social media marketing" are perfect topics for evergreen content. While blogging and social media marketing might evolve and the nitty-gritty details of those areas change over time, the fundamental basics stay the same. Therefore it's perfect evergreen content material.
Top Tips
Top tips never get old. Whether it's "Top Tips to Write Great Blog Post Headlines" or "Top Tips to Learn a New Language in 30  Days" it will be a piece of content that stays interesting to readers for a long time.
Reviews – books, films, products
Reviewing a book, film, product or service can draw attention to your blog for many years. Especially products or services that don't change frequently are great for such posts. Avoid reviewing products that are out-dated after a few months (e.g. mobile phones) and focus on longer-term products (e.g. coffee machines) or films and books.
Definitions, Glossaries, Acronyms, Dictionaries
Creating a dictionary on your website can be a great way to attract visitors. Not only will Google pick up your dictionary and slowly show your page in search results for the specific keyword, but you can also link within your blog posts to your own dictionary entries in order to explain difficult terminology.
Tutorials
Tutorials on how to use a service, product or software are always useful and hardly ever need to be updated regularly. Established software and products often don't change for years and even once they changed there are always a lot of legacy users looking for help with older versions of it.
Creating a tutorial on "How to shrink an image with Photoshop" or "How to use Excel for XYZ" can be useful for years to come.
HARO round up posts
HARO stands for Help A Reporter Out. You can simply head over to  their website and sign up to the service for free. Once you're in their database you will receive between up to three emails per day with 10-30 requests each. Requests are categorized into areas such as general, business and technology.
You can use HARO in two ways. You can either reply to requests or send in your own requests.
If you feel that you can provide a good quality answer to any of the journalist requests simply reply to it with your answer and any additional information that is required. If your answer is good the journalist might use it and in return mentions your company name, website address or social media details.
Likewise, if you want to write a blog post about a specific topic you can send the request to HARO and they send it out to their database. You normally will receive between 10 to 50 replies. Once you've sieved through the best replies you can put them together in some form of expert roundup blog post.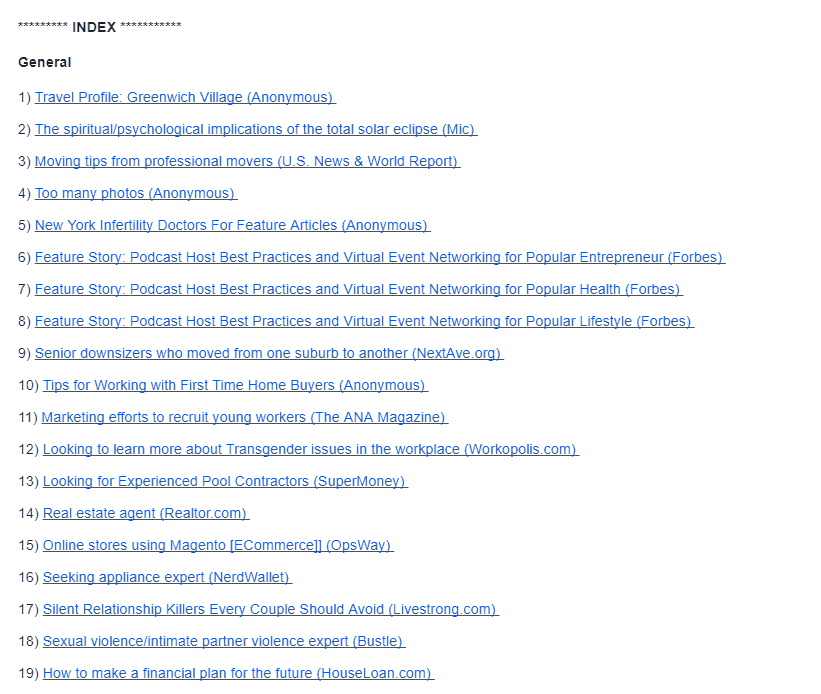 Influencer / thought leader interviews
You can reach out to influencers or thought leaders by using HARO (see above), Twitter or email outreach. Once you've lined up one (or multiple) interview partners you need to prepare a set of questions and interview the thought leader about it.
Most interviewees don't stop there. Most likely they will help you promote the interview on their blog, website and social media accounts as an interview is normally seen as a win-win situation. You get free, high quality content and the interviewee gets exposure and can establish himself as an expert in their field.
Reviews of annual events
There are plenty  of conferences in any industry you can think of. No matter whether it's tech or medicine. The list of conferences around the world is endless.
Pick the top conferences in your industry/niche/location and sum them up  in a blog post. Chances are that every year around the conference's date your traffic will have a spike.
Publish a recipe
If you've got a food, cooking, restaurant or similar website or blog you might want to consider publishing recipes on a frequent basis.
Recipes are the perfect evergreen content and social media platforms such as Pinterest are perfect to utilize pictures of the finished dishes.
Explain jargon
If you decided against having an industry dictionary on your website (see point earlier in this blog post), then you might want to consider explaining industry jargon in a dedicated blog post from time to time.
The jargon and definitions never get old and don't need to be updated at all. The perfect match for long-term evergreen content.
Life hacks
Life hacks rarely change. Once you came up or researched a life hack it will be applicable forever.
No matter if you write about a life hack that improves your focus, your productivity or a way to learn a language in one week. It will be as interesting to read about in three years time as it is today.
To sum up
Just some final points to recapture what we've look at today:
Evergreen content is KING and is a MUST HAVE in any content marketing strategy
Evergreen content needs to be timeless, relevant and in-depth
Use Google Trends to identify topics that are continuously in demand
Produce content in a variety of different formats: checklists, guides, tutorials and interviews