Content marketing has been adopted by many businesses in order to drive traffic and cultivate leads. A portion of marketers are left irritated after they realize that their content marketing strategy doesn't generate the results that they had hoped.
Some strategies that are implemented don't bear any fruit at all!
What could possibly be the culprit to the dismal results brought on by your content marketing strategy? Content marketing is seen as an effective way to drive sales and has been employed by over 85% of the companies – why do some of you experience lackluster marketing performance?
Fact of the matter is that there are noticeable content marketing strategy trends which can render it ineffective. Some may even say "lack of an existing strategy" is what causes the content to barrel down the path of less-than-desired outcomes.
Know Your Audience
Who are you reaching out with the content you produce? Having a clear understanding of the audience you want to attract is the first step in securing an effective content marketing strategy. The content you produce will struggle captivating the attention of the content consumer without first acknowledging your target demographic.
This is a crucial mistake that some marketers make, albeit the first step in developing a strategy.
Take some time to research the market and the consumers within, it can help you evaluate the needs of the consumers and the shortcomings of your competition. Uncover the customer pain points and cater content that address said pain points.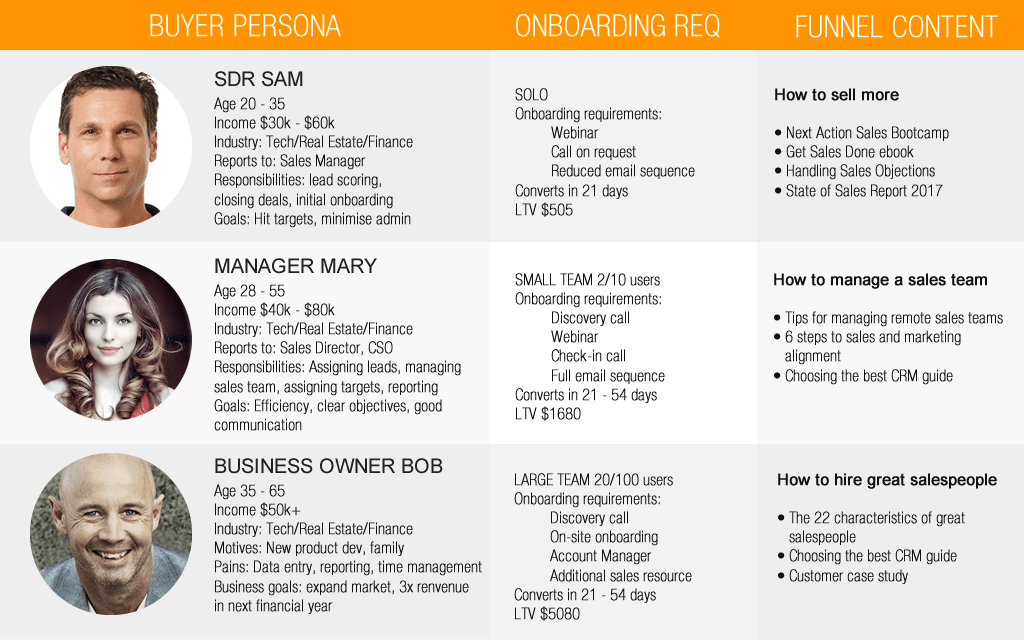 Empathy is the key that helps secure attention and engagement from content consumers. Your audience will be more inclined to read your posts, view your videos, if they see that there is an understanding of their problems from your end.
When there is an apparent mutual understanding between the content creator and the the content consumer, sparks fly. Camaraderie that starts to develop will bring you one step closer to a kick-ass content marketing strategy that actually works.
Identifying a Clear Content Marketing Strategy
There seems to be a disconnect as to what marketers want to do and what they are actually doing. For example, 57% of B2B marketers use conventional print and other offline promotions to market their product, despite only 31% of the marketers seeing this as an effective means. Perhaps this is a case of "do as I say, not as I do."
Understanding the strategy, documenting it, and following through with it leads to positive results. On the other hand, dismissing the aforementioned steps can quickly lead to strategy deterioration. Only 32% of content marketers have a documented strategy to guide their efforts, which paved a way to a net benefit.
Here's another shocking statistic; 30% of marketers see their content as effective in promoting their business. Doesn't give you much confidence having this information under your belt. Not to mention that 65% of content marketers don't even know what good content even is!
The picture is becoming a bit more clear as to why some content marketing falls short from their desired effect.
Being S.M.A.R.T.
Strategy is a fancy way of saying "goals and the trajectory you take in order to achieve them". Strategists compile a tactical analysis – a path of least resistance that is capable of garnering results. Some thought-provoking statistics I have covered moments before disclose the true nature of content marketing so called "strategy".
Imagine the end goal of your content marketing and what it aims to accomplish. Content marketing strategy without a concrete end in sight or goals to strive for should be shelved right away. You're not seeing content generating online traffic, but is it even clear how much traffic you hope to generate? How many leads you want to secure?

S.M.A.R.T. goals are a method of creating business oriented progress milestones. For a lot of people goals may just be wishful thinking without an engine that drives them towards a crystal clear destination. Where we're going we don't need roads, or a map, or an end – while driving a car, this would be just a waste of fuel.
Perhaps it may even be beneficial to scrap the term strategy all together. There is a chance to enhance the outcome by orienting ourselves around goals and letting strategy follow once goals are clearly defined.
Here's where your content strategy may be falling short in relation to S.M.A.R.T. goals –
S – specific: you aren't sure of what you hope to accomplish and haven't made the effort to specify what it is that you're doing;
M – measurable: you are not tracking the performance of your content. Measure the ROI, lead generation, etc. that your content creates and compare it to your previous quarter, year;
A – achievable: the projected outcome is unfeasible given your resources – expecting too much from too little;
R – relevant: content that you create isn't aligning with your target demographic and is unable to touch on the pain points;
T – timely: lacking structure and a schedule – you're not bound by time constraints.
Reorganize your content marketing strategy so it coincides with these 5 principles for maximum effectiveness. It's all about staying more aware of your content creation process and the results you wish to achieve.
Lack of Content Diversity
Under-utilization of available content channels could be another fault. There are a wide range of mediums where content can be published, but you're probably restricting yourself too much. Channeling all your energy onto a couple platforms won't be as effective as you may think.
Among financial investors, they avoid putting all their eggs into one basket; stock diversity creates a more secure portfolio. The same thought process should be applied when you're creating and publishing your content.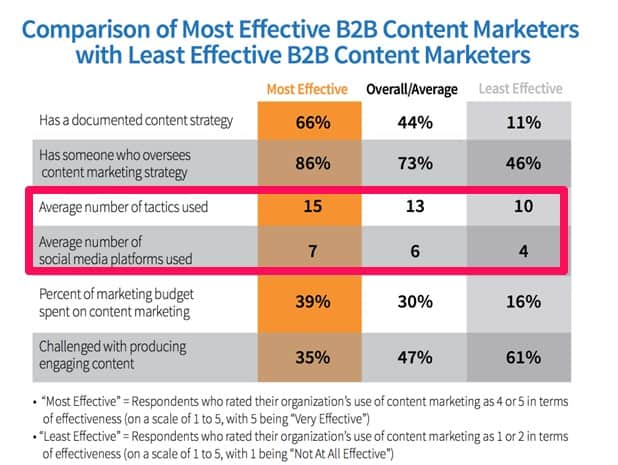 Be proactive and embrace variety. Some popular content marketing tactics that businesses flock to are –
These are just a few examples of how your content can be relayed to the audience.
You're Not Promoting Content
Even once you have managed to produce some quality content, you work doesn't stop just yet. This content of yours still needs to be actively promoted. Don't let your new creations just sit there festering and gathering dust – spread the word.
Though search engines are often the biggest drivers of online traffic, they won't pick up on your newly minted creations. SEO takes time and effort for it to kick into full gear.
Guest Posts
To expedite the SEO process, reach out to other content producers or publishers that operate in the similar industry. Inquire them about the possibility of hosting your guest posts on their portal. The guest posts you create should contain backlinks to your blog or website content.
This is a relatively simple way of building up domain authority and improving your overall SEO. Not to mention your name and content becomes accessible to a new audience through an established publisher.
Social Media
A lot of us spend more time on social media than we care to admit. An average user spends over 2 hours on social media every single day. This can and should be used to your advantage.
You may have variety of social media profiles pertaining to business and for personal use. Don't be afraid to drop fresh content links on your business as well as your personal social media profile. I'll look the other way when you mix business with pleasure.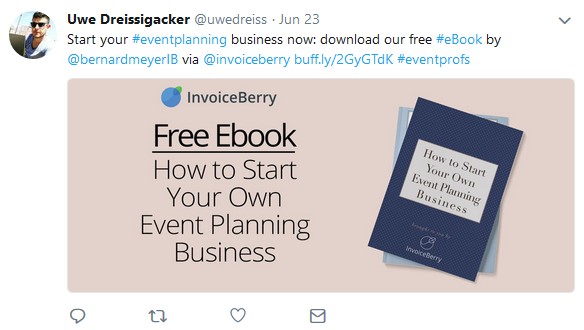 With so many users spending a significant portion of their day on social media, having links present here is a great way to garner additional content exposure.
Quora is another great platform to promote content though it's not exactly a social media platform. In a way, Quora operates similarly to guest posts; create some content that answers a question and exhibits your knowledge of the topic, with a few backlinks peppered in within the text.
Lastly – Expecting Results Too Soon
There are some pieces of content that just don't generate results quickly. For example blog content needs to marinate in order to start driving significant traffic. According to HubSpot research, 90% of all blog leads came from posts that were older than a month.
Our blog experienced similar results – older content managed to age like a fine wine and generate significantly more traffic than the more recent posts. All this is due to organic search development via SEO and social shares.
What Did You Take Away?
Variety of content faux pas can cause the whole content strategy to crumble into shambles. Marketing to everyone is not an option yet unfortunately some believe it's acceptable. Aimlessly targeting the world population isn't doing you any favors. Stay focused on the goals your content must achieve – the strategy will follow.
Don't skip out on promoting your content. I am sure you're a diligent creator, so make that know to the world. Build connections with other content creators by guest posting, it may snowball into a fruitful, mutually beneficial content promotion.
The benefits of content marketing are long lasting. Be clear with your objectives, stay relevant with your content, and you'll notice the sought-after online traffic come pouring in.