Keywords an individual enters into a search engine such as Google or Bing, bring them to the relevant content on the internet. This is where SEO comes into play.
Optimizing your blog for search engines may be the one thing generates the most traffic to your blog. Making sure your presence is known by a search engine is essential.
Deciding on how to go about optimizing your web page or a blog to be the best fit for a search engine may be tricky. In the beginning it probably sounds like witchcraft, figuring it all out so that the algorithms and search bots know how to find you and rank your content accordingly.
Let's go over the important things that will get you noticed by traffic driving search engines.
Focus Keywords
Finding the most suitable focus keywords using a keyword tool for your blog content is an essential part of optimizing your blog for search engines. You want to avoid suffocating your posts with the chosen keywords, because search engine bots will understand what you're trying to do.
Trying to embed keywords into every nook and cranny of your blog will be counterproductive to SEO and your content won't be reader friendly. Use those keywords in such a way that it doesn't compromise the reader experience.
Typically you will want to hone in on one or two keywords for each of your blog posts. This way it will be easier to naturally incorporate the words within your text.
Depending on your audience and their search habits, you may also entail for some long tail keywords. If the user is aware of something, or desires to find out more about a specific topic, well that's where long tail keywords come to shine.
Including Keywords In The Content
Have you settled on some keywords that would best suit the content? I hope so. Now we have to figure out how and where to implement those keywords to be most effective. Of course after you have chosen the keywords –writing content with the reader in mind — keyword density within the text will be good enough for SEO.
Now lets go over some of the more crucial places where your keywords should be found – title, headings, URL, meta description.
Title

First and foremost comes the title for any blog post you write. It is the gateway to the blogs content and the first thing search engines will encounter when determining your blogs relevance. Making sure your title contains the keyword or keywords is essential to be most effective in optimizing your posts for search engines.
Try your best to include the keywords in the beginning of the title. The visible title length for Google is roughly 70 characters long, any longer than that and the title gets cut off. Even if your title is longer than 70 characters, it will not pose too much of an issue for SEO, just make sure keywords are visible in the beginning.
If by chance you include keywords in the title at the end, or they are not visible because of the character limit, your SEO efforts may be compromised. Search engines may determine your relevancy as minimal in this case.
Headings
Include your chosen keywords in the headings of your content. Headings are those small bold titles littered throughout the blog post. Don't stuff keywords in the heading if it doesn't work and the natural flow of the idea may be harmed.
Including a keyword in one or two of the headings will be plenty. Again, don't go overboard with keyword incorporation. Stay natural and always write with the audience in mind.
URL
I am sure you have done a lot of searches on the internet recently. Whenever you type something in, millions of options pop up. I am sure you noticed the website link is listed under the blue title of the page – the keywords may also be found in the URL. That's what you want to do with your URL too.
One of the first things a search engine bot notices is the URL and how it relates back to the content of the post. If the keywords match up, then your SEO efforts have just been strengthened.

Meta Description
Meta description is the short paragraph under the link that briefly describes the content within the page.
Be sure to be specific when creating a meta description and always include your keywords here. The search engines will be much more inclined to start ranking you higher when the keywords are found in the meta description. Your your audience will also be more aware of what they searched for is found right here.

Is It Mobile Friendly?
No matter how well you have optimized your blog for search engines, if you have not yet made your blog accessible to mobile users, you will struggle putting your mark on Google or any other search engine.
With more and more individuals looking for content on the go, being mobile friendly is essential to stay approachable and having the best chances to rank on search engines. It's a fact that more users browse the internet and use search engines on their mobile devices than on their desktops at home.
If anyone were to search for something on Google with their mobile device, mobile friendly sites would be the first ones listed. If you are not mobile friendly, you just got put on the bottom of the list for a vast majority of internet users.
Does your blog use a responsive site design? This means you only need a single URL to access both the regular version and the mobile version of the blog or web page. (i.e. m.books.com is the mobile version and books.com is the regular website.) Responsive design can and will boost your SEO efforts in the long run.
Images
No blog should ever contain just text. Having relevant images within your blog can help get your message across a lot more swimmingly. Some people are more visual learners, so a well incorporated image can go a long way and not deter some of your audience.
Now images are also beneficial to search bots. Any image you consider uploading, create an 'alt text' for it. The search bots can't see the images the way you and I can, but they base their relevance off the alt text attached to it.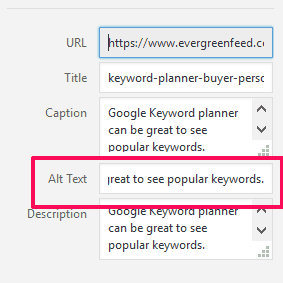 Alt descriptions for images won't have too much of an impact on your search engine optimization, but it does help. It won't hurt to take a few seconds to write a short sentence for an image. You never know, this could mean the difference between first and second place on search results.
Links
Links are an important part of blogging. Whenever possible, include internal and external links within your content. They provide some needed context or proof to the information that's provided as well as validating the credibility of your blog to the search bots.
Let's say you are writing a new post. You have come to a point where you're covering some of the information that you may have previously written about. Don't be afraid to drop a link within your new post to your old content. This web of links you create can help tremendously with your search engine optimization.

If you have other credible sources linking to you, that's another way to boost your search engine rankings. Search bots put a lot of value into content that other worthwhile pages link to.
Avoid Linking to Competition
When providing external links in your posts, make sure that you avoid linking to the ones that are competing for your keywords. If the page has been around longer, and their presence is more established you could be giving them a boost while your benefit may just be squandered.
Search Engine Optimization Takes Time
Search engine optimization effects take time to show. Imagine planting a seed. You won't wake up the next day to find a new tree sprouting from that seed. It takes time, dedication and you have to nurture the seed for it to show results after months of work.
SEO is the same. If you stay committed to your efforts, and take all these things we talked about into consideration, your online exposure will surely increase.
These efforts overtime will continue to boost your credibility and the search engines will notice that.
Keep writing relevant content with all of these steps in mind. Like with a lot of things out there, consistency is key.