Organizing your day is a great way to know what to look forward to and help manage your precious time. This creates structure which allows you to always be prepared for what's about to come next. Having organization and structure implemented in your daily life will create for a more efficient you.
Now if we use the same methodology for content production, as you would use to map out your daily routine – you would get an editorial calendar or some people know it as a marketing calendar.
What Is a Marketing Calendar?

As I mentioned before, the way you create a schedule for yourself, you will do the same with your content creation and publishing. If you just jump in and start creating content for your blog or business you may just be shooting darts into space.
You need to have create an approach of how the content will be created, what content you need to create and when it will reach the public.
Why Do You Need This Calendar?
Sometimes just coming up with topics and deadlines on the spot may not the best way of doing things. It can create confusion for you and the people you work with. Staring off into space coming up with the next big thing for your blog or social media is time consuming and may create overlap in new content creation.
Planning out your content creation on a convenient calendar will make everyone aware of what you need to do now, and in the future.
Always look ahead and see what needs to be done. Plan it all out a week, a month or two in advance. You can even plan your content marketing efforts a year in advance. This will keep you and everyone involved focused and on the right track.
When you have everything figured out, and managed to compile a nice content calendar for yourself, things will get a whole lot easier –
You will be more aware of your deadlines;
Deadlines will be easier to hit;
Be able to hold yourself and others accountable for task completion;
Visual representation of things you're working on and things that need to get done;
Don't waste time coming up with topic ideas, they are already planned out for you.
This will breed efficiency for you and among you colleagues – something we can all appreciate.
How To Begin Planning
Understand and pick the channels you will use to publish your content. Pick the ones that are the most relevant to your audience. Don't spread yourself too thin and assume you can incorporate every outlet out there. It will only dilute your marketing efforts.
Consider the channels you will use –
Blog posts and your web page content;
Emails and email marketing campaigns;
Perhaps you want to incorporate a podcast;
Videos
Infographics
Anything else you may want to include.
Creating this list will help you get a better understanding on what type of content will work best with which topics.
How Will You Create The Marketing Calendar?

We have come to the step of trying to narrow down the platform on which this marketing calendar will exist.
You might be more old school and enjoy having physical copies of things. Perhaps a printed out calendar of content might be the best solution for you. If you work by yourself or with a few employees this may not be a bad option. Just make sure you have online backups just in case.
Spread sheets. This is a very simple to use and free online calendar solution. Software such as Google Sheets will allow you to simply create a marketing calendar and be able to share it with anyone in your organization. Anyone with access to the same document will be able to make changes or cross off things that have already been completed. Any changes made will be visible by everyone. Of course this also works on your mobile device.
You also have software options such as Percolate to help you create the ideal marketing calendar. This works both for your laptop or desktop as well as for mobile devices. Choosing this option will come with a monthly subscription, but it offers a lot more functionality than the previous options.
How to Keep Your Calendar Full?
Keeping the content calendar full guarantees to keep you up with fresh and relevant ideas for new content creation. As mentioned before, you want to cut down on the time it takes generating a new idea to write about. Having a solid list of topics lets you jump right to work.
If you are struggling coming up with fresh ideas, consider doing this –
Spend 10-15 minutes couple times a week just brainstorming relevant topic ideas for the calendar – write them down;
Create a grading scale and grade your ideas from best to worst;
Discard the worst ideas;
The ones you graded as the best can go on the calendar;
Ideas that were in between, can perhaps go for some refinement.
Going through these steps will guarantee you with some new content ideas for your calendar. Always have something on your calendar that would be a usable topic for your content.
Content Themes
When creating content topics in advance, sometimes implementing a seasonal theme could go a long way. There may be a time when you need to create content during a certain holiday or an event. You can use that to spice up your content creation.
Identify and label events into categories –
Holidays – religious, national, etc;
Date or time that may be significant to your business – 1 year anniversary, 1000th customer sale, etc;
Annual company events.
You can even consider introducing a monthly theme in your marketing calendar. Maybe you will interview an expert at the beginning of each month, or each month you will bring out a new podcast for your customer.
Color Coding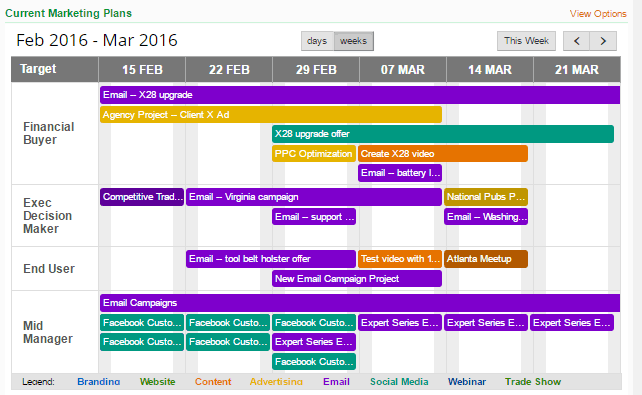 Consider implementing some color coding into your marketing calendar. Adding color to your marketing calendar is great to help create a visual representation of how you will proceed with certain topics.
Color based on a specific channel;
Color can mean a certain person is dedicated to this task;
Time sensitive content;
Theme should be assigned to various topics;
Of course you can always color code based on your own criteria that works best.
Create It
Content marketing calendar is a phenomenal way to keep your tasks and thoughts organized. You and everyone you work with will know exactly what needs to be done and when. You will avoid creating overlapping content and save time managing other people's creation process.
Plan ahead, decide what needs to be accomplished and mark it on the calendar.